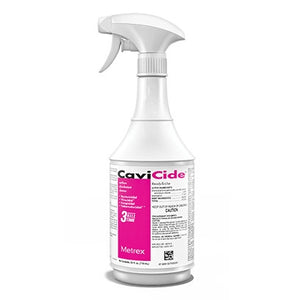 Cavicide Surface Disinfectant 24oz. Bottle with Spray Nozzle
BUY 2 - GET 15% OFF.  DISCOUNT APPLIES AT CHECKOUT. MUST HAVE 2 IN CART.
Bacterial Virucidal Fungicidal Tuberculocidal Surface Disinfectant Decontaminant Cleaner.
It is useful in health care settings such a hospitals, emergency medical settings, surgical centers, isolation areas, neonatal units, patient care centers, ophthalmic facilities, dental offices, dental operatories, animal care facilities, salon settings, emergency vehicles, schools, health club facilities, kitchens, bathrooms, prisons, morgues, and other critical care areas where control of cross contamination, between treated surfaces is important.
CaviCide will effectively clean and disinfect, when used as directed, such items as infant/child care equipment surfaces, toys, oxygen hoods, operating room tables and lights, ambulance equipment surfaces, exam tables.  IV poles, dental unit instrument trays, exterior surfaces, of amalgamators, and therapy equipment, veterinary care surfaces, tanning beds, salon surfaces, exam tables, exterior surfaces, of appliances such as refrigerators, microwaves, food processors, and stoves, sinks, counter tops, floors, walls, handrails, door knobs, bed railings, tables, tables, chairs, bathroom fixtures, computers, shopping carts, cabinets, lights and telephones, which are made of plastic (i.e. polycarbonate, polypropylene, polyvinylchloride (PVC) and polystyrene, and use sites, 
Manufacturered by Metrex. A leader in sanitation products for the Health Care Industry.