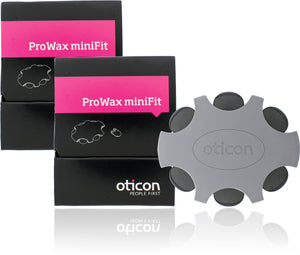 Oticon ProWax Minifit Replacement Wax Filters (2 Pack)
THIS OTICON ITEM SHIPS TODAY IF ORDERED BEFORE 3PM EST (M-F).
ORDER NOW and Get FREE SHIPPING and our Exclusive CLEANING TOOL KIT Shown below:
GENUINE Oticon Minifit Waxguard Filters (2 Wheels of 6) 12 replacement filters total.

FITS Oticon Alta 2, Alta 2, Nera, Nera 2, Ria, Ria 2, Intiga.  OPN Play (Series), OPN Siya (Series), Get, Hit, Sensei

Featured Cleaning Tool Set included (1) Microfiber Cloth, (1) Tapered White Vent Cleaning Brush, (1) Four-In-One Tool (Black) contains a bristle brush, vent probe, battery removal magnet, and a looped wire pick - for tough cerumen deposits.

QUALITY ASSURED SATISFACTION GUARANTEED - We take pride in our product offerings. This bundle is carefully packed by our active senior associates.